Win a Prize! CHAZAN POEMS: ART & MUSIC CONTEST
We invite you to enter the contest! Read a Chazan Poem, and compose a song or draw an illustration.
Win prizes from 20,000 to 100,000 yen (GOLD, SILVER, BRONZE and Selected)
Amount of prize prize money of 2 rounds is 4,000,000yen(fluctuates by the number of winning works)
 ●ENTRY QUALIFICATION AGE 16 AND ABOVE  ●●Watch ENGLISH PAGE●●
 (現)広島県福山市神辺町に生まれた江戸時代の天才漢詩人・菅茶山(かん ちゃざん)の漢詩を、やさしい現代語に意訳した「茶山ポエム」を読んでイラストを描き、または作曲するコンクールです。
★入賞2万円 ★銅賞5万円 ★銀賞8万円 ★金賞10万円
の賞金が贈呈されます。★賞金総額2年間で400万円(入選点数により変動があります)
 コンクールは2016〜2017年の2年連続開催します。詳細→応募要項
Music composition & llustration
Join Chazan Poems:Art&Music Contest
Prizes: \20,000 to \100,000
Selected 20,000yen Bronze 50,000yen Silver 80,000yen Gold 100.000yen
The amount of prize money of 2 rounds is 4,000,000yen(fluctuates by the number of winning works)
(1) WHO IS CHAZAN?
Chazan was a Japanese Confucianism professor and also a Chinese poet who lived in the late Edo era. He was very famous for his literary works using perfect Chinese vocabulary because he had a surprising amount of knowledge about China's origin and history.
Born in 1748, in the current Kannabe-cho,Fukuyama City, Hiroshima Prefecture, he died in 1827. He gave us the legacy of excellent Chinese poetry.
(2) HOW TO ENTER THE CONTEST
Read a Chazan poem and use your imagination. Draw an illustration or compose a
song. 
Send your work of art to the address written below:
Kanchazan Kinenkan
  30-2 Oaza Shin-Yuno Kannabe-cho
  Fukuyama City, Hiroshima Prefecture
  Japan 〒720-2122
※Digital music sound and score data can be sent by e-mail.
(3) ENTRY QUALIFICATIONS
●
Age 16 and above. Can be professional, amateur, and from any district or country.
●
Work must be unpublished and original. Copied or printed work is not acceptable except the
print art and CG art
●
Work cannot be returned. The copyright of the prize-winning work will belong to our   
organization, but we will contact you beforehand regarding royalties if your work is to be
commercialized.
●
The Contest will run for 2 years (2016 to 2017)
■
1st round: Entry starts Sept. 15, 2016 Closes Feb. 28, 2017
Winner will be announced early May, 2017
■
2nd round: Entry starts March 1, 2017 Closes Nov. 30, 2017
Winner will be announced mid April, 2018
※If number of entries are low, the contest may be carried over to the following year. In this
case, we will contact you directly.
​
(4) CHAZAN POEMS…WHAT'S DIFFERENT FROM CHAZAN POETRY?
People nowadays in Japan can't read Chinese poetry, and so Chazan poetry was translated into modern Japanese and again into English. We call these poems 'CHAZAN POEMS.'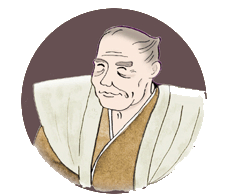 漢詩
(Chazan's Original Chinese Poetry)
十五採蓮女 羞人不出花
風起花繚乱 時々露鬢鴉
蓮の花採る
少女は十五
年齢や恥ずかし
花のかげ
息をひそめて
身をかくす
風おこり蓮ゆらぎ
花かげに見える
黒髪の
蓮の花採る
少女は十五
Hasu no hanatoru
Shojo wa 15
Toshi ya hazukashi
Hana no kage
Iki wo hisomete
Mi wo kakusu
Kaze okori hasu yuragi
Hanagage ni mieru
Kurokami no
Hasu no hanatoru
Shojo wa 15
A Girl And Lotus Flowers
The young girl is fifteen.
She is cutting a lotus flower.
She is so shy that she can't leave the lotus flowers.
Then the wind begins to blow,
Causing the flowers to sway,
Sometimes allowing me to see
The side of the girl's black hair.

A Chazan poem in Japanese
/written in Roman letter
A Chazan poem in English
Translated by Michael Littlemore
(from England)
An example of Chazan Poems &

Illustration
ENTRY ■1■ MUSIC COMPOSING
Read Chazan poems and make a song.
1,You can use "the refrain (chorus)" to repeat the same words and phrases of the
poetry.
2, You can add words such as Oh, LaLa…. to fix the tune/beat.
3, You can choose either an English poem or Japanese poem. Also, you can mix
parts of the English poem and Japanese poem, such as ♪I'd follow the butterflies♪
Boku nara cho ni tsuitekuna.
4. You can enter more than one piece.
5, Record the sound (instrument+vocal) and score data onto a CD or USB.
Send it by mail or e-mail.
Kanchazan Kinenkan
30-2 Oaza Shin-Yuno Kannabe-cho
Fukuyama City, Hiroshima Prefecture
Japan 〒720-2122
6. Don't forget to list your full name, age, address, phone number, email address.
7, Read the following list of Chazan poems (English and Japanese) and choose your
favorite one.
ENTRY ■2■ ILLUSTRATION
Read Chazan poems and draw an illustration.
1, Attach your illustration to a Chazan poem of your choice.
2, Watercolors, print, paper-cutting, butterfly wedge picture, collage. CG, or spray art.
Color
or
monochrome,
either is fine.
3, No 3D, no oil paint, no relief or pasting solid things with thickness.
4, Work must be unpublished and original. Copy or print is not accepted except print art or CG
art
according to the size like below. And we require print block or CG data of the winning
work. We inform you it after the day of selection.
5. Use 'yotsugiri' size paper with the shorter side at the top like the chart below.
('yotsugiri' drawing paper size = Japanese standard 380mm×540mm)
6, Write the poem you chose on the attached sheet and enclose it. (Handwritten or
copy & paste.)
7, We will prepare the trimming mat for the poem and print the poem. Send your illustration
only.
8. List your full name, age, address, phone number, mailing address on the back of your work.
9, Send your work to:
Kanchazan Kinenkan
30-2 Oaza Shin-Yuno Kannabe-cho
Fukuyama City, Hiroshima Prefecture
Japan 〒720-2122
Like this, the bottom half will be used to print the poem.
   At the time of judging and displaying, we will put your picture in a frame.
The trimming width of the mat are 40 millimeters. Follow "the size of the picture" mentioned above. See the sample on the right.

Caution

: The size of paper must not exceed 380 millimeter width× 352 millimeters height.